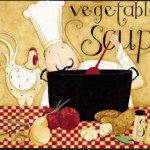 We will prepare extra soup in the Parish Hall kitchen for our annual Soup Luncheon to benefit Meals on Wheels (Jan 28th), and feed those in need in our community Saturday at 11:30AM with soup, hot dogs and french fries. Would you like to help?  It's easy!  Just follow the recipe and bring your soup to the Parish Hall.  For more information, contact Jodie Webb Johnson or call the Parish Office.
 Vegetable Soup
3 med. onions, chopped
1 lb ground beef
1 clove garlic, minced
3 cans beef bouillon
2 large cans tomatoes, chopped
1 cup dry red Burgundy wine
2 Tbsp. parsley
1/2 tsp. basil
1/4 tsp. Thyme
1 cup water
1 cup each– potatoes, carrots, celery (essential for
flavor), green beans, okra, corn, butter beans, optional.
Salt & pepper to taste.
Brown beef, onions and garlic. Drain to remove excess
fat. Add remaining ingredients and simmer 1 ½ hours.
Makes approximately 4 quarts.